Outdoor Football Sport Stadium Perimeter Display Match 960X960Mm Panel Led Sign Screen Digital Signage Billboard
Product Detail
Product Tags
| | |
| --- | --- |
| Pixel Pitch |  P6 P8 P10 |
| PanelSize | 1600x900mm |
| Brightness | 6500nits |
| Refresh Rate |  3840hz |
| Viewing Angle |  140/140 |
16:9 design Light Weight with full aluminum Cabinet
Panel size:1600*900*101mm 45Kgs per sqm,30%lighter and normal iron cabinet,saving labor cost and shipping cost;
Recyclable and resource-saving; High precision CNC Processing,High Flatnessl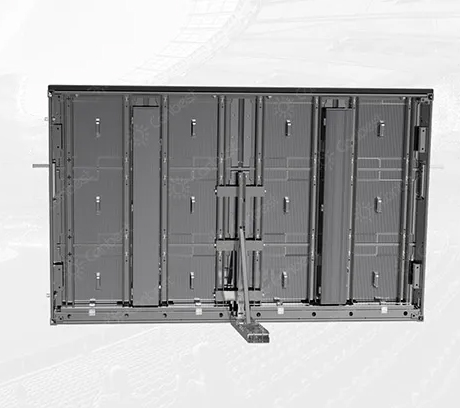 Characteristics of LED display screens in stadiums
1. Protection function of LED display screen
The world's climate and environment are complex and changeable. When choosing LED display screens for stadiums and gymnasiums, it is necessary to consider the local climate characteristics, especially for outdoor screens, where high flame retardance and protection levels are essential.
2. Overall brightness contrast of LED display
For LED displays in stadiums and stadiums, the brightness and contrast need to be considered comprehensively. Generally speaking, the brightness requirements for outdoor sports displays are higher than those for indoor displays, but it is not that the greater the brightness value, the more appropriate.
3. Energy saving performance of LED display
The energy-saving effect of LED displays in stadiums and stadiums also needs to be considered. Choosing an LED display product with high energy efficiency design ensures safety, stability, and service life.
4. Installation method of LED display screen
The installation position determines the installation method of the LED display screen. When installing screens in stadiums and gymnasiums, it is necessary to consider whether the screens need to be floor mounted, wall mounted, or embedded.
5. Viewing distance of LED display screen
As a large outdoor stadium, it is often necessary to consider users viewing from medium to long distances, and generally choose a display screen with a larger dot distance. Indoor audiences have higher viewing intensity and closer viewing distance, and generally choose small pitch LED display screens.
6. Visual angle of LED display screen
For spectators in stadiums and gymnasiums, due to different seating positions and the same screen, the viewing angle of each audience will be different. Therefore, it is necessary to purchase appropriate LED screens from the perspective of ensuring that each audience can have a good viewing experience.
The stadium LED display screen is used to place advertisements around sports venues such as football fields and basketball courts. It is a perfect combination of modern sports and commercial operations, while enjoying exciting matches and circulating advertising information.
---
---